An advanced technology learning center that embraces the needs of future generations.
Featured Project Projects
Location
Raleigh, TN (Suburb of Memphis, TN)
Awards
2020 Memphis Business Journal Community Impact Award
Client
City of Memphis Public Libraries
The master plan by OTMA transformed the 68-acre site of a former indoor mall into the Raleigh Springs Civic Center. It is composed of the Raleigh Springs Skate Park, the Traffic and Special Operations Station/Austin Peay Police Station, and Raleigh Public Library.
Memphis' first "smart library" is the most technologically advanced branch in the Memphis Public Libraries' system. Its playful, curvilinear design and asymmetrical shapes pay homage to legendary architect Stanley Tigerman who taught Tom Marshall at University of Illinois at Chicago School of Architecture. It creates a juxtaposition that welcomes visitors to increase their knowledge and take advantage of the next generation library's high-tech offerings of free digital websites, databases, and resources.
The library also promotes and sponsors literacy programs, robotics, workforce development programs, STEM classes, and learning labs for youths and families. The children's area design is open concept with the best views of the lake that frames the civic center in the foreground. Also downstairs is a meeting room complete with space for 200 people to hold meetings, community events, choir practice, and more, with a separate entrance for after-hours community events.
The second floor is of the 17,500-square-foot library is home to a commercial kitchen, the only one in the Memphis library system. It has inspired healthy cooking, eating, and lifestyle classes to combat the area's food deserts.
To create an individual architectural statement for the library, our firm commissioned sculptor Yvonne Bobo to design its distinctive interior lighting and sculptures on the walking path. The library is bathed in blue LED lighting.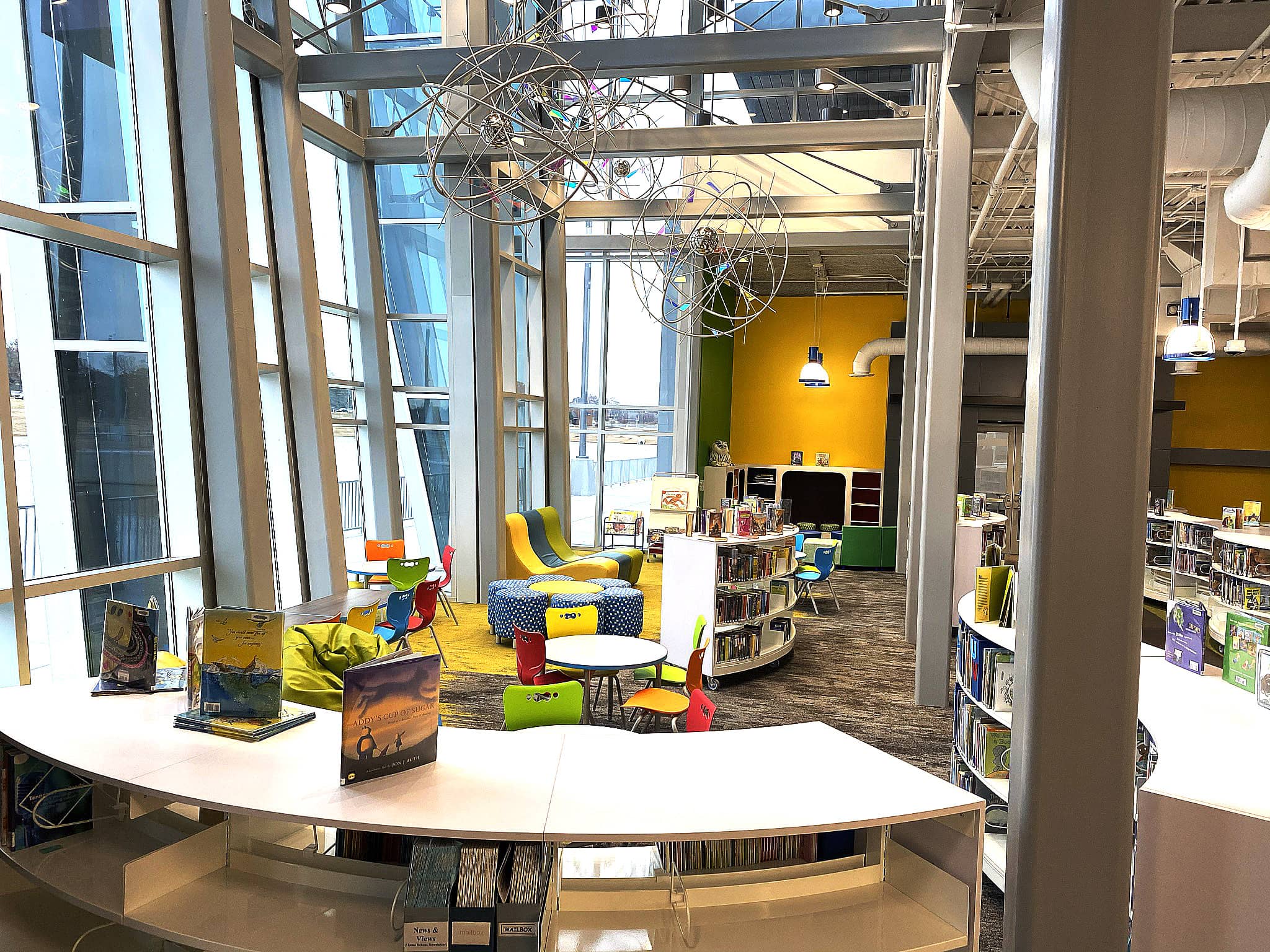 What was once void of life is now a vibrant, reimagined community pillar with bustling evidence of life today and tomorrow